The Massachusetts Lobstermen's Association will be updating this page as these projects get underway in the three wind area leases.  If you have any questions please call the MLA office at 781-545-6984 and talk to Beth Casoni.
Updated on 8-28-2017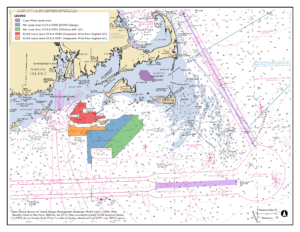 Deepwater Wind is proud to be America's leading offshore wind developer.  The company's path breaking Block Island Wind Farm is the first in the nation. Led by a veteran management team with experience in developing complex energy projects worldwide, Deepwater Wind is making offshore wind in America a reality.
Headquartered in Providence, RI, we are actively planning offshore wind projects to serve multiple East Coast markets located 15 or more miles offshore, including New York, Massachusetts, Rhode Island, Maryland, and New Jersey.
* The South Fork Wind Farm (SFWF) is a planned offshore wind farm located 30 miles east of Montauk that will consist of approximately 15 wind turbines and a subsea transmission system able to deliver 90 MW of clean energy to East Hampton. Marine survey activities are scheduled to begin in Summer 2017. Marine construction is planned to start 2021. Summer 2017 Survey Information for Mariners
Vineyard Power Cable route is being developed and the fishing industries input is needed.  If you fish around the Vineyard Power lease area and Nantucket Sound please print the chart here to mark up with the best route for the cable so to have the least amount of impact on the fisheries; lobster, conch, squid etc. and mail it to Erik Peckar Vineyard Power Cooperative PO Box 1077 West Tisbury, MA 02557 or email erik@vineyardpower.com Summer 2017 Survey information for mariners
DONG Energy, the global leader in offshore wind power – is teaming up with Eversource Energy – the premier transmission builder in New England – who has acquired a 50% ownership interest in Bay State Wind in order to jointly develop Bay State Wind.
The proposed offshore wind farm would be located approximately 15-25 miles south of Martha's Vineyard in an area that has the potential to develop at least 2,000 megawatts of electricity – enough to power one million Massachusetts homes.
Placement of data buoys in Bay State Wind lease area
Geophysical Survey to start August 3, 2017 Estimated duration 90 days (weather permitting) RV