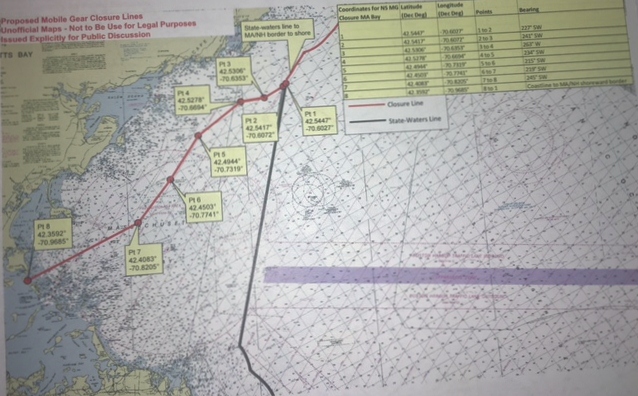 The MA Division of Marine Fisheries held Public Scoping Meetings on 9/27 & 9/28 to Describing Mobile Gear Closures
DMF held two meetings to discuss modernizing its mobile gear closure regulations in order to improve the clarity of the closure coordinates, especially those that reference the Line of 1881. DMF favors amending these closure boundaries to instead use latitudinal and longitudinal coordinates that are more amenable to modern GPS technology. Both fixed and mobile gear fishermen attended the scoping meetings.
DMF regulations establish a series of spatial and temporal mobile gear closures. In many instances, the seaward boundary for the closure is described as the Line of 1881. This is a historic line that previously delineated the exterior boundary of the Commonwealth. Today, the coordinates for the Line of 1881 are not readily available to fishermen and Law Enforcement, as it is not portrayed on NOAA charts or through GPS overlays.
As a result fishing industry representatives and members of Law Enforcement have encouraged DMF to modernize its mobile gear closure regulations to use straight lines between lat/long coordinates. In advance of these meetings, DMF has delineated and mapped the point corners of the 1881 Line and the seaward boundaries of our mobile gear closures using lat/long coordinates.
All maps depicted herein are unofficial and not for legal purposes. Maps are provided for public discussion only.  See Charts here 
Please review these charts and let us know where these lines can be simplified.  Call Beth Casoni at 781-545-6984 xt1